Partial Dentures
Partial dentures, also called "removable dental bridges," are typically prescribed to patients with several missing teeth.
Partial dentures use a metal frame to keep them stable and in place. The base of the frame is a pink-coloured acrylic that should blend in with the natural colour of your gums.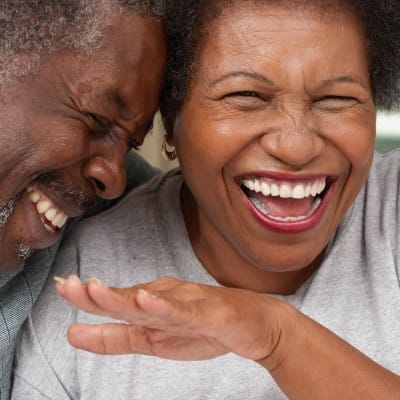 Complete Dentures
As the name suggests, complete dentures are often recommended to patients with no remaining upper or lower teeth or those planning on having full rows of teeth removed.
In these situations, complete dentures can provide immediate results.
For cleaning and comfort purposes, most types of complete dentures are removable and are easy to maintain. Full dentures have come a long way from years past and are now more comfortable, aesthetically pleasing, and more useful than ever.
Implant-Supported Dentures
Implant-supported dentures use a titanium root device that is surgically implanted into the jawbone. Once the titanium root is in place, a dental crown or denture can be placed on top.
If your goal is to obtain the most natural appearance, function, and feel, implant-supported dentures are truly a wonderful option.
But, they're not for everyone; only patients with minimal bone loss, or "resorption," in the jawbone are ideally suited for this type of procedure.